The wreck of the General Brock 1826

In the early hours of 29th May 1826 the Jersey registered ship the

General Brock was lost following a collision with the brig Francis about 250 miles nort east of Bonavista, Newfoundland. The ordeal of the crew lasted for 10 days during which they faced hardships and choices few landsmen could even comprehend. The General Brock was a 109 ton brig built in Cap Breton by Peter Brouard in 1821 for Philip and Francis Janvrin of Jersey. She had a square stern and a scroll head, she was 62 ft 4ins long, 20 ft 6 ins in the beam and had a depth of 10 ft. Her first master was Edward Hamon who was succeeded by Pierre de la Lande.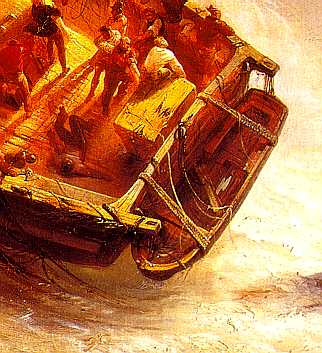 A report in the Aberdeen Chronicle of 2nd July 1826 from Captain McBain of the
Phesdo
who had recently returned from Cap Breton stated that the
General Brock
while on passage from Jersey to Gaspé had been run down by an unknown brig at 12:30 am on 29 May at 49° 50' N 48° 30' W. When the two brigs were entangled three of the crew - Thomas Mallet, James Perrins and Philip Perchard were able to jump on board the other vessel. One man, James Holme was unable to get on deck and so was drowned and the remaining 14 crew members took to the longboat where they spent the next ten days. They had no water and the only food they had was a small Dutch cheese which lasted five days. Once it was finished, the weaker men died - six in the last six days: these were Philip Duval, a Janvrin Company clerk, Francis Chevalier, Philip Syvret, C Rinolp, Elias Vibert and James Brown.
The others resorted to feeding off the dead bodies of their comrades to survive. On 9 June they were picked up by the brig
Ann
of Liverpool (Captain Forbes). Unfortunately, it was too late for Captain de la Lande, Edward Luce, Charles Meyers, and Francis de la Mare who all died on board.
The four crew men who survived the ordeal were the mate Elias Bundon, Joseph Powell, John Dolbel, and William Hughes.
Joseph Powell returned to Jersey where he wrote an account of his experiences as a shipwrecked sailor.
Click here to read an extract of
Joseph Powell's account
Click here to read about cannibalism on board
The Quixote, 1830
Return to
Eating Flesh - Cannibalism at Sea
Return to
Tales of Ships and Shipwrecks