SHIPWRECKED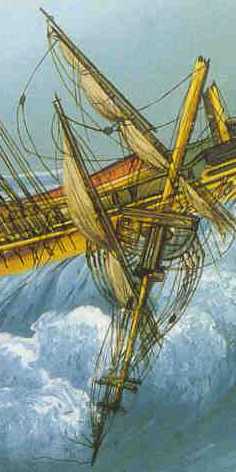 The reality of the days of sail was that one bad gale could overwhelm a hundred merchant ships and fishing boats in a single night.
The all-embracing term - lost - was used in many cases especially when a ship simply failed to arrive at its destination. During the 19th century when Britain had the largest merchant fleet in the world, approximately 8% of it was lost each year. In some periods an average of six British registered vessels were being reported as missing every day.
It is interesting to note that in 1850 Lloyds List stated that 692 vessels (127,188 tons of shipping) were lost in the year. Of these, 277 were total losses and another 304 were stranded and damaged. The total for Jersey that year was 14 vessels lost (1,702 tons of shipping)
Between 1865 and 1880 over 32,000 British ships (184 from
Jersey
) were lost at sea. At the same time Lloyds List reported an average of at least one collision at sea every day of the year.
That the sea took such a steady toll was an accepted feature of life amongst Britain's maritime communities. Indeed there was even a prayer in the
1862 Book of Common Prayer
to be used in times of danger during storms at sea.
However, at the end of the day, all danger is relative - as EHH Elliott wrote "There is no difference in the end of a successful struggle with the sea off the North Foreland or Cape Horn. The rock you see and avoid, whether it is in the English or Mozambique Channel, will give you the same creep up the spine."
Click to find out
more about shipwrecks.
Click to explore
Tales of Ships and Shipwrecks
Click here to return to
Patrimoine