The Wreck of the Jean Goujon

During the afternoon of Monday 2nd May 1864 the storm cone was hoisted at Fort Regent, St Helier. During the early evening the winds swung to the North and increased in strength whipping the seas up. The Jean Goujon of Bordeaux, a 532 ton ship belonging to the Compagnie Française Transatlantique, 25 days out from Havanna bound for Le Havre with a cargo of 800 tons of sugar, was running up the Channel

.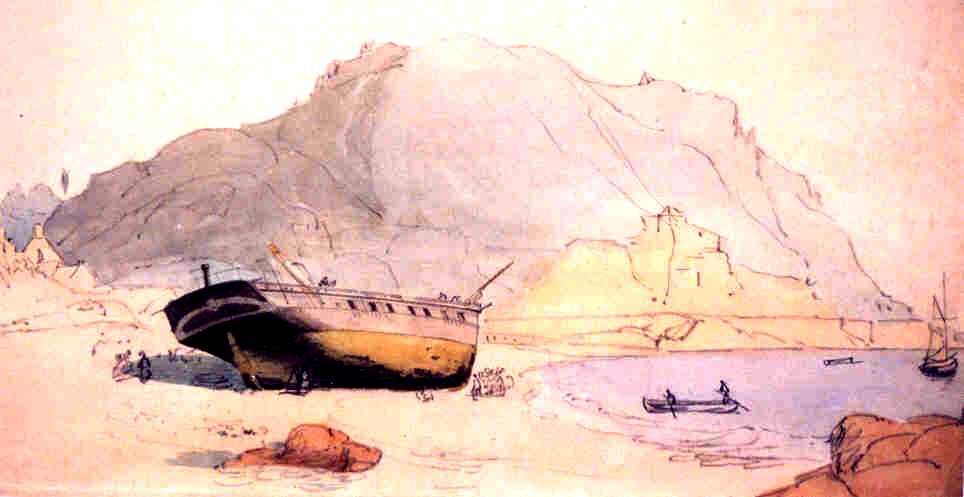 In the darkness, Captain Longenieux mistook his position and steered south of the rocks he thought were the Casquets. They were in fact the Ecréhous and in doing so he ran onto the rocks. About 2:00 am on Tuesday, 3rd May the order was given to abandon ship and without stopping to get the canvas from her yards the 18 crew took to the boats and headed for the French coast about 7 or 8 miles away. In the rough seas the boats were in danger of being swamped when Captain Codgrove of Jersey picked them up in his fishing smack Two Sisters and ran down towards Gorey where he landed the bedraggled Frenchmen about 6:00am.
Two fisheries protection vessels, the French cutter Alcyone and HMS Speedy came upon the wreck shortly afterwards. The wreck was the subject of much interest especially when it was learned that between the time the crew left and the time Thomas Philip Renouf and Josué Blampied went out to the stricken vessel between 8:00 am and 9:00 am someone had pillaged the boat and broken into the Captain's strongbox and made off with between 600 and 700 francs.
Over the next few days the seas continued to smash over the wrecked ship carrying away the spars and many of the deck fittings. Much of this was washed up on the north coast of the island. Finally John Perchard in the smack Pink and another fishing boat floated the Jean Goujon and towed her to Bouley Bay as salvage.
On Monday 9 May 1864 the wreck was auctioned by Philip Barbier, a marine insurance broker of 15 Mulcaster St, St Helier, in the presence of Monsieur Layeux, the French Vice Consul who represented the French interests. Monsieur Jean de Caen bought the hull for £560 (14,000 francs) and MS Jewell bought the 750 tons of unspoiled cargo for the sum of £360 (9,000 francs).
On Monday 23rd May the Jean Goujon was towed around to the Albert Pier in St Helier by the steam paddle tug Toby where it was repaired.