The schooner Westward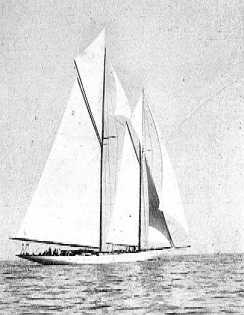 The Westward was a steel built schooner commissioned by Alexander S Cochran designed and built in 1910 by Nathaniel Greene Herreshof in his yard in Bristol, Rhode Island. She was launched on 31st March and christened by Mrs A Livingstone Beekman.
She was 323 tons and carried 12,000 square feet of sail. She was 135ft overall and 96 ft 1 in on the waterline. She had a beam of 27 ft 1 in and a draft of 16 ft 9 ins. Her Flag signal was KSNP.
In 1913 she was acquired by the Norddeutscher Regatta Verien and re-christened Hamburg II. When the Great War broke out she was laid up for the duration and did not take to the water again until 1919.
TB Davis acquired her in 1924 and she was refitted later that year. The period 1925-35 was her racing heyday and she was regular on the big ship racing circuit. She competed against the likes of Astra, Britannia, Cambria, Shamrock and White Heather.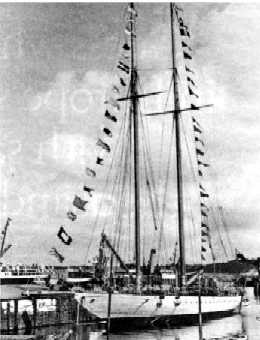 Davis often helmed her and his crew contained many Jerseymen. Unlike the crews of many of the big racers, the men were not laid off at the end of the season. They were employed throughout the year as Davis and his crew did all the maintenance work on Westward during the winter on St Helier's South Pier.
When King George V died and his yacht, Britannia, was scuttled Davis had an Ailsa Craig auxiliary engine fitted in Westward and she was used for cruising after that.
During the Second World War Westward was laid up in Dartmouth while Davis moved down to his second home in South Africa where he died in 1942. In accordance with his wishes, Westward was offered to three sea training schools but they all declined as they were unable to maintain her and so on 15 July 1947 she was taken out into the English Channel where she was scuttled in the Hurd Deep.
The best account of the Westward is CP Hamilton Adams book, The Racing Schooner Westward published in 1976.
Return to
Patrimoine