Privateering

Thomas Pickstock and the

Herald - 1798

Thomas Pickstock was born in St Helier in May 1765. His father was Sergeant Thomas Pickstock of the 99th Regiment garrisoned in the island and Jeanne Le Feuvre. When his father was posted to England, the young Thomas set out on a naval career serving in the King's cutter in Portsmouth. He returned to the island and joined J&C Hemery & Company owners of several privateers. In 1792 he was serving on board the

Queen and the following year on the outbreak of war with France he became a privateer.

Thomas Pickstock made a name for himself on 25 February 1798 when commanding the 80 ton privateering brig

Herald in the Bay of Naples he was attacked by three French privateers. Despite being out-gunned - the Herald had ten 3, 4 and 6 pounder cannons against the French ships one of which had five long 18 pounders - and outnumbered (180 men to Pickstock's 28) he fought them off after a three hour engagement in which there were no fatalities on board the Herald against 30 killed or wounded on board the French ships.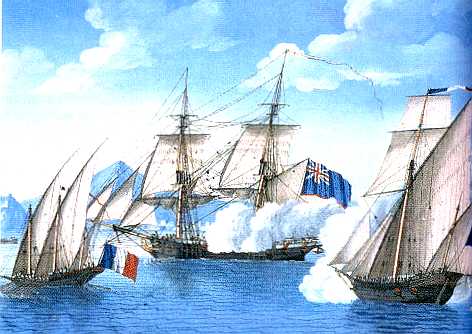 The three French ships were all lateen rigged and two of them were also powered by oars - perhaps galeotta or felucca while the third was possibly a chebek- this would explain the discrepancy in the numbers of men and also the high casualty rate amongst the French. That evening they sank a felucca which tried to board them under cover of darkness all 22 members of its crew went down with her. This would probably part of the same French force encountered during daylight. On reaching Naples they were feted by the British community including the Duke of Sussex and the British Envoy Sir William Hamilton and his wife, Emma. Captain Pickstock received a sword which is now in the Maritime Museum in Jersey while the British merchant community in Naples raised 200 dollars

(?) which was given to the crew.

The following year, 1799, while off the coast of Newfoundland Captain Pickstock beat off an enemy attack on the brig,

Princess Royal. The Jersey Chamber of Commerce raised 500 livres in order to present him with a silver plate but unfortunately he died before he returned to the island. In April 1800 he was master of the Minerva when he died of yellow fever on a voyage out from London to Surinam in Dutch Guyana leaving a widow and two children.

Why dollars?

Naples was part of the Kingdom of the Two Sicilies which had been ruled by an Austrian Hapsburg monarch until 1735 when it passed to a branch of the Spanish Bourbons. It remain so until Napoleon Bonaparte first of all gave it to his brother Joseph and then to his Marshall, Murat apart from a short interlude in 1799 when it was briefly a republic. Dollar was the English term for an Austrian silver coin, the thaler, which was named after the mine from which the silver was mined - Joachimstal. At first the coin was referred to as a Joachimstaller or taller - and as the Spanish eight-real piece was a similar size and weight - they were both referred to in English as dollars. Pickstock and his crew were rewarded with dollars because Naples had been using these reals and thalers for over a century.

Return to

Privateering frontpage