The Voyage of the

Fairlina

A NARRATIVE

of

A voyage from Liverpool to Peru

Written and experienced

By

James Sauvage

In the Year 1864

PREFACE

Several friends have persuaded me to make a short memoir of the unfortunate voyage which I experienced in the Fairlina of which I was at the time chief-mate. The voyage was from Liverpool to Peru, and I trust that the incidents so fatal to some of my shipmates and likewise to the ship, narrated in the succeeding pages may not prove devoid of interest to my friends. At the outset, I may as well mention that the Fairlina was a splendid little new vessel of 190 tons register. The voyage was only her second one. She was well stowed but unfortunately very badly manned, and rather overloaded for the intended voyage

.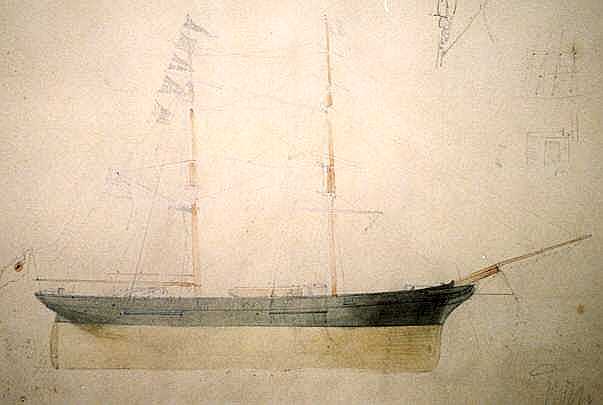 The brig Fairlina was launched from FC Clarke yard at West Park, St Helier on 23 December 1862. She was owned by Philip Le Maistre, jnr & Co of Jersey and Liverpool and was insured with the Jersey Mutual Insurance Society for Shipping of 4 Bond Street, St Helier. The shipping agent was Le Maistre and Co, Ship-brokers & General Commission Agents of Talbot Chambers, 3 Fenwick St, Liverpool which would explain why the voyage started out from the Mersey. In 1871 the vessel's registry was transferred to Aberystwith in Wales
This sketch of the Fairlina was made by the Jersey artist, PJ Ouless
Click here to continue with
The voyage of the Fairlina, 1864
Click here to return to
Patrimoine