Who else was in the bay on
9 November 1800?
The Havick was not the only ship in the bay on that fateful Saturday evening, the 8th November 1800, the following ships were also at anchor in St Aubin's bay.
HMS La Loire, 48 guns, Captain Newman. A fifth rate 18 pounder frigate built in Nantes in 1795. She was 1,100 tons and had a crew of 284. She was captured from the French in October 1798. During the storm her cables parted and, luckily, she managed to pass over a rock ledge off Elizabeth Castle at high water in the middle of the night and make her way into open sea. She reached Spithead safely the following day. In December 1809 she was still in service although had been reduced to harbour duties.
HMS Pelican, 18 guns, Captain Thickness. A fir built version of the Albatross class of 16 gun brig sloop. She was ordered from Parry's of Blackwall in 1795 and launched in July of that year. She was 365 tons and slightly smaller than Havick. She was driven ashore on to Elizabeth Castle but was later refloated and repaired. She was eventually sold out of service in Jamaica in 1806.
HMS Spiteful, 14 guns. She was an Acute class gunboat designed by Henslow in 1797. She was 158 tons, built at Deptford, and had a crew of 50. Spiteful was rigged as a brig and fitted with a Schank sliding keel. In the early hours of the Sunday morning she was driven ashore but like the Pelican she was refloated, taken alongside in St Helier harbour to be repaired. She survived to be hulked in 1804 when she was converted into a convict hospital ship; a role she continued with until she was broken up in 1823.
HMS Telegraph, 14 guns, Lieutenant Corsellis. She was a brig, built in 1798, and hired by the Royal Navy for war service she was a hired vessel and had a crew of 61. Lieutenant Corsellis managed to save his ship by cutting away the mainmast but was later lost with his ship when it went down with all hands off Cape Ortegal in Spain on 14th February 1801.
HMS Redbridge, 16 guns, Lieutenant Lempriere. She was an Eling class experimental gunboat built in 1796. Designed by General Samuel Bentham she was 158 tons, schooner rigged and had a crew of 50. During the storm she was driven out to sea and managed to reach the safety of Spithead only after all her guns had been ditched. Redbridge was captured by a French frigate squadron off Toulon in August 1803 and was taken into the French navy where she served until 1814.. The crew were held prisoner for 11 years until they were released in April 1814 and returned to England where Lieutenant Lempriere was court-martialled in June 1814 for the loss of his command.
HMS Lion, 14 guns, Lieutenant Tatham. She was an 86 ton cutter hired by the Royal Navy between 1793 and 1801 and manned by a crew of 36. She was driven ashore but was refloated.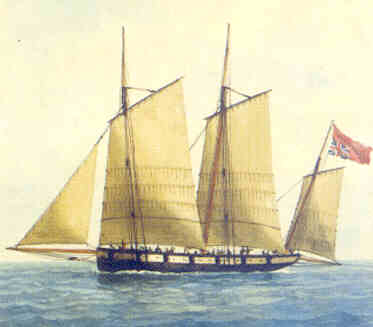 In addition to these Royal Naval ships there was also an un-named Guernsey privateer which was driven ashore and feared lost and two un-named merchant vessels (one Swedish) which were both driven ashore near Bel Royal.
On the 23rd November 1800 HMS L'Ambuscade, 40 guns, Honourable Captain Colville carried the crews of the Havick and the Pelican back to Portsmouth
Click on here to return to
The wreck of HMS Havick, 1800
Click here to continue with the
How the Havick was found
Click here to return to
Patrimoine